REIMAGINING EXODUS
The Exodus Journey as Archetype of our Personal Journey
Celebrating the Hope of SpringTime, Passover & Easter
Led by Rabbi David Zaslow with a presentation from Guest Speaker, Matthew Fox
The biblical Exodus is the most influential freedom story ever told. It has served as an inspiration for Puritans, American revolutionaries, abolitionists, Mormons, the modern Civil Rights movement, and agents of change the world over. In Jewish tradition, the Exodus is also applied to every person's life journey with its struggles, liberations, and revelations. In this virtual 'retreat' discover how Exodus is the foundational story that links Judaism and Christianity together and look at ways that each of us can free ourselves from the "egypts" and "pharaohs" in our own lives— an ideal way to heal and celebrate hopeful possibilities during these challenging times.
Included in this 2-day online event:
 Three 1.5 hour teaching sessions led by our featured presenters
     3/19, 10:00am - 11:30am, 3:00pm - 4:30pm (PST)
     3/20, 10:00am - 11:30am (PST)
 Exercises for personal insight, growth, and transformation
 Interfaith lessons for healing the divisions in today's world
AND A SPECIAL ONLINE CLOSING CELEBRATION OF AN INTERFAITH SEDER-EASTER RITUAL
                                                     3/20, 3:00pm - 4:30pm (PST)
Facilitated by Richard Groves & Dr. Marlis Beier from the Sacred Art of Living Center
Click Here to view Interfaith Seder-Easter Ritual Celebration Poster
Fee:
$150 US Dollars
$175 Canadian Dollars *(Please call (541) 383-4179 to pay in CAD$)
Graduate Apprentice Discount: *(Please call (541) 383-4179 for this special discount)
$100 US Dollars
$125 Canadian Dollars
Click here for a PDF of this flyer. Feel free to print it out for yourself or to share with colleagues.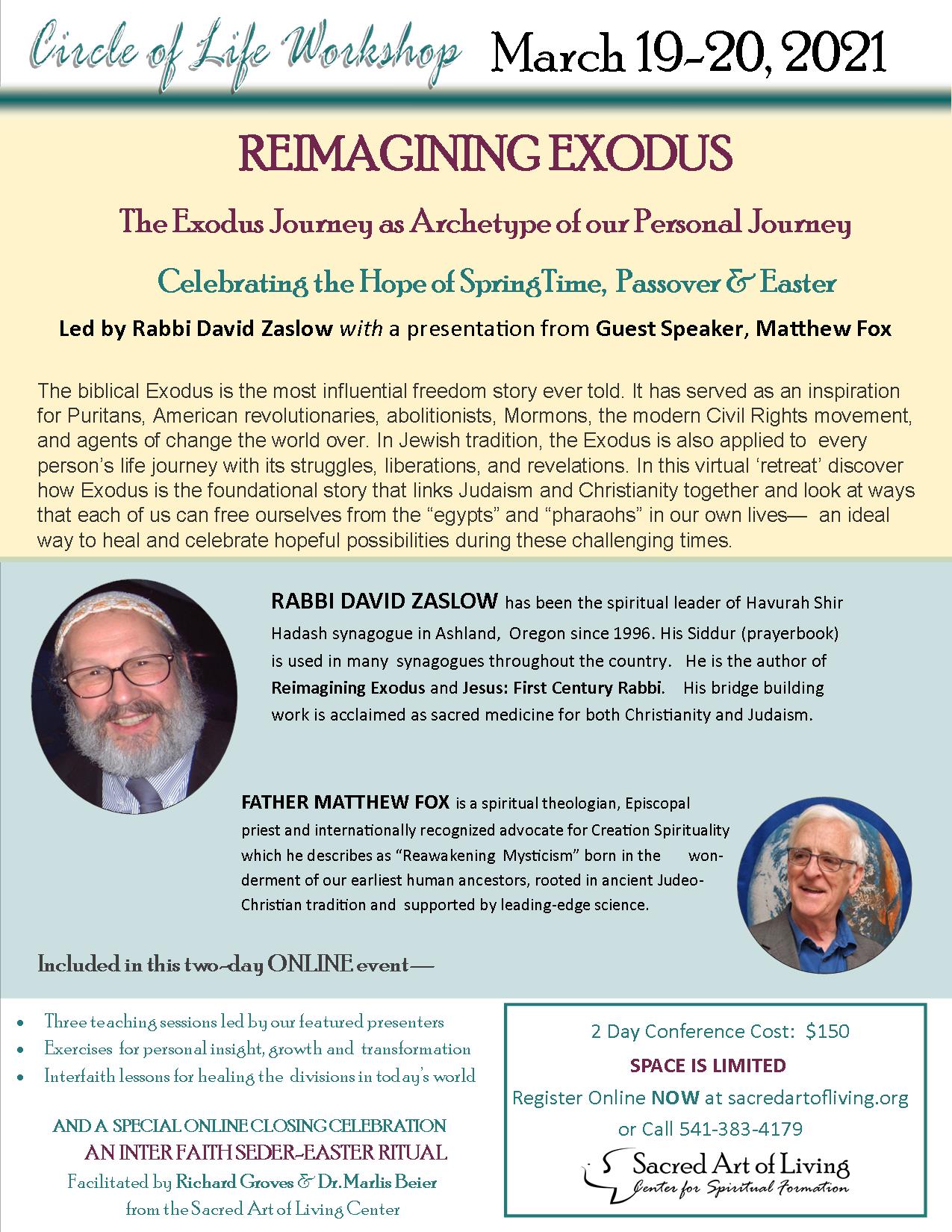 When
March 19th, 2021 10:00 AM through March 20th, 2021 4:30 PM