November 12th  – Important Video Message with Richard Groves
Richard Groves will send out a short video introducing our vision of this next year. Everyone will receive this through our e-newsletter, so be sure to keep your eye on your inbox!
November 12th – Two Weeks of Gratitude
Sign up to receive two weeks of daily messages of gratitude. These emails will be short reminders of how to turn towards gratitude and joy in the days leading up to the Thanksgiving Holiday here in the States. Email us at info@sacredartofliving.org to be added to the list.
November 21st, 10:00 am – 11:00 am Pacific Time – "How Can I Help?" Virtual Open House
We are hosting an online open house titled "How Can I Help?" We hope everyone will join us in a meaningful community conversation. We want to hear from you! We want to know "How can we help YOU in 2021?" What do you want and need as part of the SALC family? We also know that many of you want to know how you can help SALC in this upcoming year. This is a chance to share the ways that WE need YOU to help Sacred Art of Living Center grow in the coming year. Come join us, see friends, and let's discuss how to make 2021 the best year ever! Click here to register.
November 23rd, 6:00 pm – 7:00 pm Pacific Time –"Giving Thanks" Virtual Gala
The "Giving Thanks" Gala is the centerpiece in our month of community events.  We are thrilled to announce that Fr. Richard Rohr will be our special guest speaker as part of our November 23rd "Giving Thanks" Gala event.  As our guest of honor, Fr. Richard Rohr will be presented with our Anamcara Lifetime Spiritual Mentor Award.  Richard will also offer a message for all online participants. This evening offers a video retrospective of the Center and special guest presenters that have helped form and inspire the work we do. Richard Groves will share stories, wisdom, and vision as he takes us through the beauty of "Giving Thanks" for what the Sacred Art of Living Center has brought to our individual lives and the world-at-large. Click here to register for this free event.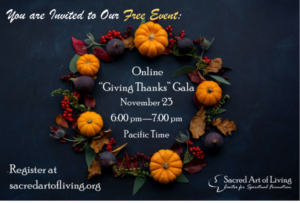 Click here for a PDF of this invitation
November 27th – Holiday Advent Calendar
Remember the joy of opening an advent calendar when you were a child? What a wonderful tradition that honored the count-down to the holidays. This year SALC is offering a free digital Holiday Advent Calendar. Behind each virtual "door" will be a surprise: a quote, a song, a poem, a picture, or suggested daily practice to help your holidays stay focused on what deeply matters. Look for the November 27th e-newsletter containing this link.